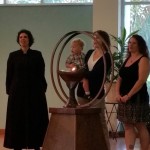 One of the most important jobs a minister has is to effectively communicate messages in a variety of settings including worship, the classroom, programming, social justice and community activism.  This means every minister must be well versed in reaching a variety of learning styles.
My approach to religious education and faith formation has been greatly influenced by Maria Harris, James Fowler, Angus MacLean and Sophia Lyon Fahs. I pay very close attention when crafting and augmenting curricula to ensure that it is age and faith stage appropriate while addressing multiple learning styles. The methods employed to implement programming embody the message of the materials. I work hard to create safe, supportive spaces. I believe strongly that education is not just about delivering information but helping people to reflect on it, synthesize it and feel inspired to apply it in an environment that fosters ongoing learning.
I view faith formation as a lifelong endeavor. This is particularly important in our liberal faith as revelation and understanding are continuous. Crises in life and the world cause our faith to expand in order for us to make meaning. Our religious education programming must respond to these needs by creating frameworks for resilient responses and faith expansion.
In my experience, it is valuable to work in affinity groups separated by age in accordance with traditional religious education experiences. Thematic ministry programs like Soul Matters, can be easily integrated into existing curricula for each age group so that some common themes run through all of the programs in the congregation. Facilitated multigenerational worship and congregations deepen the experience. Worship and Social Justice actions provide additional opportunities to reflect more deeply and act on the material from religious education.