Welcome to KatieRomanoGriffin.com!
Para obtener más información sobre el universalismo unitario, puede utilizar los recursos que fueron creados por algunos amigos y yo en español en la Comunidad Unitaria.
Some friends and I wrote resources in Spanish.
Visit Comunidad Unitaria for those resources.
I am a Unitarian Universalist Minister.  Currently, I serve Cedar Lane Unitarian Universalist Church as their Associate Minister. I also serve as a Chaplain for the Civil Air Patrol Parkland Squadron.  Prior to entering seminary,  I served as a Lay Campus Minister, worked as a Life Coach, Hypnotherapist and Nurse.  I have co-authored a couple of books and been published in multiple publications.  Throughout these pages you will find my writings, sermons, a bit about my work history and passions for justice and pastoral care along with some testimonials from people whom I have been blessed to encounter along the way.
"Rev. Katie is such a beautiful soul. When I think of a strong female, someone who always does the right thing, someone who always knows the right thing to say or what you need to hear, when I think of an exemplary human being, I think of Katie. It is because of this that I asked her to be the minister of my wedding. She exemplified what I wanted in life as a young woman and a new wife, and I couldn't have chosen a better person to join my husband and I in marriage."
–Pam, Charlotte, NC
Rev. Katie's Three Favorite Poems:
Theresa Soto, "I cannot prove to you that I am a person"
Seamus Heaney, "Dig"
Adrienne Maree Brown, "moon tell me"
Rev. Katie's Three Favorite Quotes: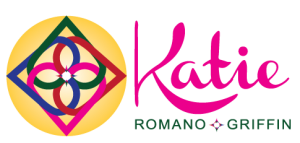 The beautiful logo image which graces my website was created by my best friend, Shell Redfern.  She created it to celebrate my marriage with Sean, and it holds deep meaning for my family and my ministry.  Each of the hearts represents a member of my family, and in the center is a compass.  My family is my true north and the circle that holds us all is the love of community, and the one power, one force in the universe that is the Great Mystery.