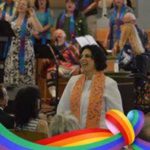 I am a Unitarian Universalist Minister with a passion for ministry that moves from an intersectional pastoral lens.  Currently, I serve Cedar Lane Unitarian Universalist Church as their Associate Minister. Prior to entering seminary,  I worked as a Life Coach, Hypnotherapist and Nurse.  I also co-owned a PR and Marketing Firm for many years.  I also have one novel which was released in 2005 under a different name.
Testimonial
"Rev. Katie is such a beautiful soul. When I think of a strong female, someone who always does the right thing, someone who always knows the right thing to say or what you need to hear, when I think of an exemplary human being, I think of Katie. It is because of this that I asked her to be the minister of my wedding. She exemplified what I wanted in life as a young woman and a new wife, and I couldn't have chosen a better person to join my husband and I in marriage."–Pam, Charlotte, NC
Rev. Katie's Three Favorite Quotes
"What lies behind us and what lies before us are small matters compared to what lies within us. And when we bring what is within us out into the world, miracles happen." –Ralph Waldo Emerson
"The method is the message."  –Angus MacLean
"I rise."  –Maya Angelou
Rev. Katie's Three Favorite Poets
Maya Angelou
Seamus Heaney
Liesel Mueller
The beautiful icon image which graces the website bar was created by my best friend, Shell Redfern.  She created it for my wedding to my husband Sean and it holds deep meaning for my family and my ministry.  Each of the hearts represents a member of my family, and in the center is a compass.  My family is my true north and the circle that holds us all is the love of community, and the one power, one force in the universe that is the Great Mystery.